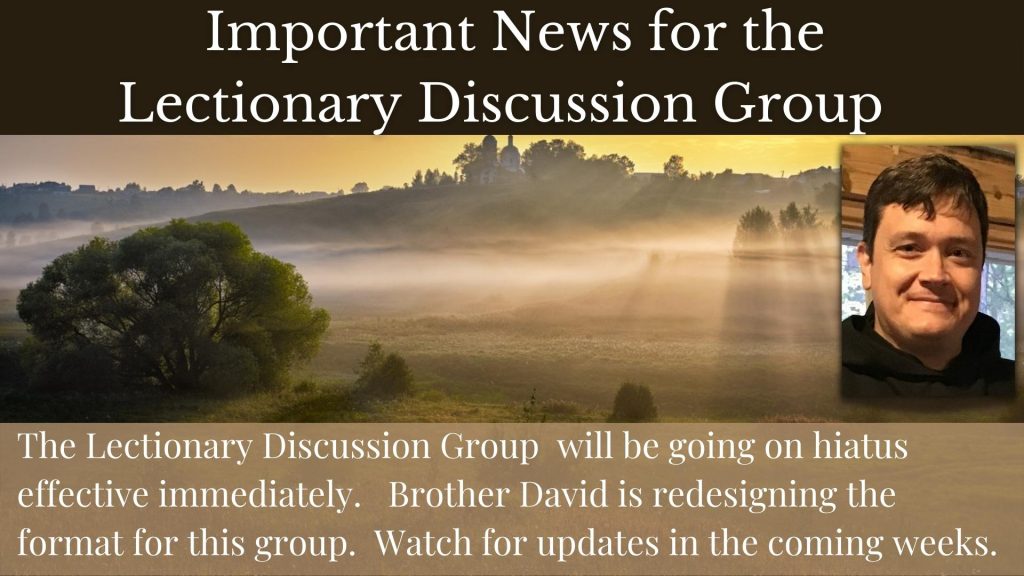 Dear Friends,
I am inviting your participation in one (or both) of two weekly Lectionary Discussion Groups. All are welcome, though the discussions will be especially geared towards supporting the ministry of folks who are called to preach in their communities.
You are welcome to join whichever group will work best with your schedule (or both, if you like!):
Tuesdays @ 10:00 AM and 4:30 PM
At the 10:00 AM session, we will discuss the readings for the following Sunday, and at the 4:30 PM session, we will discuss the readings for two Sundays later.
The connection information is below. If you have any questions, concerns, or comments, would just like to let me know you plan to participate, or if you would like to grab coffee and/or conversation some time, feel free to e-mail or text or call me at (906) 458-6772.
I will hope to see you there!
Peace and Blessings,
David
——
David Carlisle is inviting you to a scheduled Zoom meeting.

Topic: Lectionary Discussion Group
Time: Mondays @ 4:30 pm and Tuesdays @ 10:00 am
Join Zoom Meeting
https://us02web.zoom.us/j/88230566617?pwd=RWRIakNRU3JTeldWWXpPd1czQnRXdz09
Meeting ID: 882 3056 6617
Passcode: 189240
If possible, please try to read the passage(s) we will be discussing in advance. All readings can be found at https://lectionarypage.net/ and we will always discuss the readings for the following Sunday at Monday's meeting and for two Sundays hence at the Tuesday meeting, focusing on the Gospel unless those present wish to discuss another text.
Tuesday: Readings for Advent I (https://lectionarypage.net/YearC_RCL/Advent/CAdv1_RCL.html)
——
(Brother) David-Magdalene Carlisle, OSBCn
Diocesan Missioner
Episcopal Diocese of Northern Michigan
Email: david@upepiscopal.org
Mobile: 906.458.6772