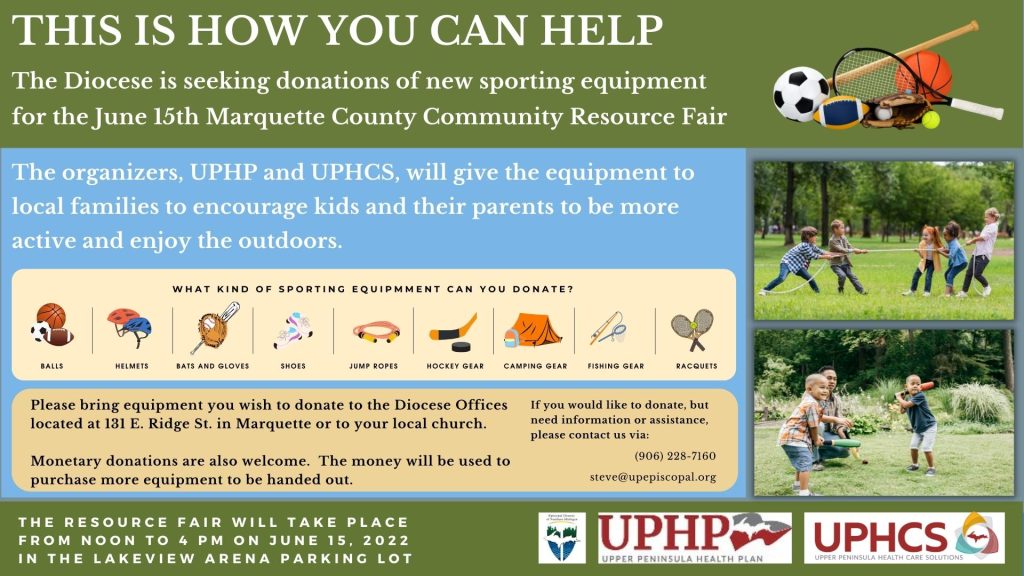 On June 15th there will be a big Marquette County Resource Fair with 40+ local organizations/businesses, a Feeding America Food Truck, free haircuts, and giveaways of outdoor and athletic goods.
The organizers, Upper Peninsula Health Plan and Upper Peninsula Health Care Solutions, would like to give away sporting equipment such as balls, bike helmets, jump ropes, baseball bats and gloves, etc.  They are doing this to encourage kids and families to be active. 
We are seeking donations of new equipment.  If you would like to donate, items may be dropped off at the Diocesan Offices in Marquette.  You may also bring gear to your local church.  We will come and pick up the items.  
Monetary donations are also welcome.  They will be used by the organizers to buy more equipment to hand out.  Contact the Diocese if you would like to offer a monetary donation.  
Finally, if anyone would like to have a table at the event, they are still taking those reservations.  If you are part of an organization that provides resources to the community, you may want to take advantage of the event.