The Mission of the Church is to restore all people to unity with God and each other in Christ. (BCP, p. 855)
Our Problem
OUR PROBLEM is consumerism; ministry is seen to be purchased from the professional provider.
This creates dependency on $ subsidy and imported clergy; the church is thus limited by the quality and availability of the professional priest; most gifts in the community go unused or unrecognized.
Definition: A problem is that which takes life away and/or prevents community; that which separates us from ourselves, from other lives, and from God.
Our Goal
OUR GOAL is to transform our congregations from being communities gathered around a minister to MINISTERING COMMUNITIES.
Definition: a goal is a desired result.
A slogan: "stop attending church; start being the church"
Our Strategy
Our strategy is Mutual Ministry Development.
NOT clerical ministry delivery and NOT team ministry delivery.
Definition: Strategies are abstract, theoretical plans.
Note: This is following St. Paul's Missionary Methods.
Our Tactics
Clustering through our regions
developing local ministry
Definition: Tactics are concrete, practical methods by which strategies are affected.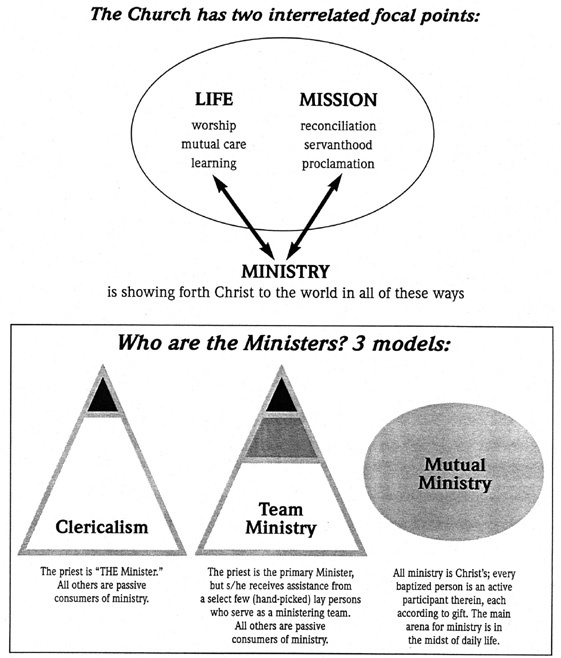 The

Covenant Group Process
Invitation
The Bishop (or a representative) meets with the local Bishop's Committee or Vestry for a two hour session to present the possibility of refocusing the daily life and mission of that congregation.
Presentation to Congregation
If the local leadership desires to proceed, the Bishop (or a representative) visits on a Sunday morning to preach and then leads a full presentation of the possibility to the full congregation. Members of the Bishop's Committee of Vestry share in the presentation.
Consultant
If the consensus is to proceed, a Consultant is selected who will be with the congregation throughout the process.
Discovery Process
The Consultant leads a series of four meetings attended by members of the Bishop's Committee or Vestry and any other leaders identified by them. The full membership list of the congregation is reviewed in light of the need to support all the baptized in daily ministry and persons are identified for various roles on the Ministry Support Team. No individual is identified for more than two positions.
Covenant Group
Those identified for these roles are invited to covenant for a period of preparation. All members of the congregation are invited to join this Covenant Group as members-at-large. The Covenant Group meets twice a month for 3-4 hour sessions with the Consultant attending at least every other session. These meetings are shaped by the curriculum which has been prepared by the diocesan team of Consultants. It is anticipated that it will take 18-24 months for the curriculum to be completed. In addition to these bi-weekly sessions, there are periodic diocesan-wide workshops for persons preparing for various roles in their Ministry Support Team. Upon completion of the curriculum, the members of the Covenant Group are examined together as a team by the Commission on Ministry.
Ministry Support Team
Following this preparation, and all necessary approvals by the Bishop, the Standing Committee, and the Commission on Ministry, the Ministry Support Team is commissioned at. a liturgy during which the ministry of all the baptized is affirmed and those who will serve on the Team are duly ordained and licensed.
Who Makes up a Congregational Ministry Support Team?
Diaconal Deacons
Helping those gifted for serving/caring ministry to be discovered and affirmed by congregations and themselves. Coordinating efforts to sensitize fellow members to issues of peace and justice, and to local and international social concerns and responsibilities. Sharing in coordination of education/training of diaconal ministers. Sharing in identifying need for pastoral care among members and in the local community.
Diaconal Ministry Coordinators
Scheduling those providing local serving/caring ministry among members and in the community. Sharing in coordination of education/training of diaconal ministries. Sharing in identifying need for pastoral care among members and in the local community.
Apostolic Stewardship Coordinators
Sharing in discovering and deploying the talent and money necessary to support the daily ministry of the congregation.
Educational Coordinators
Overseeing and encouraging fellow members gifted for: (a) catechetical preparation; (b) aiding adult theological reflection for Christian responsibility; (c) assisting children youth in growth to Christian responsibility. Sharing in coordination of education/training of these persons. Encouraging and enabling youth and adult preparation for sharing the Good News with those they encounter in daily situations. Scheduling and monitoring the congregation's educational activities.
Ecumenical Coordinators
Being in touch with representatives of other denominational and religious groups in the local community. Identifying local and regional opportunities for cooperative Christian action in support of our common mission. Encouraging members' participation in such actions.
Missioners/Rectors, etc.
Providing consulting, supervising, and mentoring services to congregations and regions as mutually agreed to by Bishop's Committees, Vestries, Regional Boards, Bishop, Council, and themselves.
Priestly Presbyters/Priests
Presiding at and administering sacramental worship invitingly and with care. Helping the smooth interaction of various worship participants. Sharing in the planning and rehearsal of worship.
Preachers
Focusing the congregation's attention on God's loving initiative in history, in Christ, in sacramental presence, and in relationships, making possible harmony with God and humanity.
Priestly Ministry Coordinators
Sharing in planning and rehearsal of liturgy; planning the worship calendar. Scheduling worship leadership. Encouraging and coordinating education/training of worship leadership.