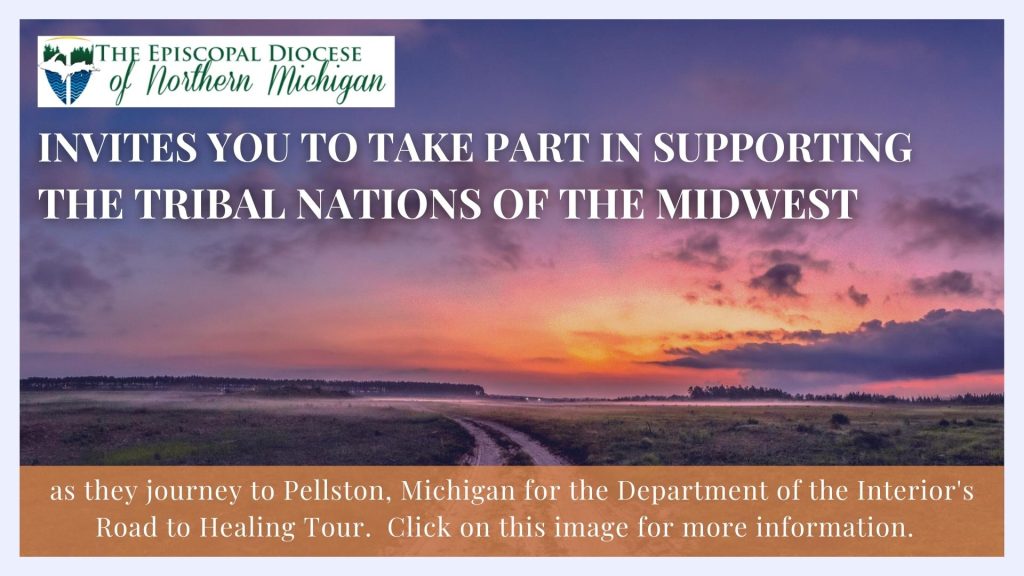 Episcopal Diocese of Northern Michigan
131 East Ridge Street
Marquette, Michigan 49855
July 29, 2022
Aanii Indinawemaaganag (Hello, my relatives),
The Episcopal Diocese of Northern Michigan humbly extends an invitation to you to take part in supporting the Tribal nations of the Midwest as they take their journey to Pellston, Michigan, August 13, 2022, for The Road to Healing meeting with the U.S. Department of Interior (DOI). We have only a short amount of time to raise funds to assist Tribal members with travel expenses as well as meals on the day of the event. We hope you will join us in supporting this important gathering.
As Christians who are currently living, practicing, and worshiping on ancestral Indigenous homelands, we are called to take action to bring about healing. Many Episcopal dioceses and other denominations are not yet in the advanced stages of the Truth and Reconciliation Movement as our relatives in Canada are. Providing assistance for this event is one way to get started doing that work. Together, we can aid in the beginning stages of truth telling by enabling Tribal members to attend.
As Christians it is incumbent upon us to support Native American boarding school survivors and their families. The Road to Healing gathering will be represented by 35 different Tribes, meaning approximately 500 participants will be coming from various states. Given the size of the gathering, we are asking our fellow Episcopalians and members of other denominations to help make this possible. This event is vital as it offers survivors the opportunity to attend and participate, and as a result, will help inform the Federal Government about subsequent work of the Federal Indian Boarding School Initiative.
In our roles of accountability stakeholders, our contributions are vital in supporting the groundwork for the DOl's advancement of the Initiative. Again, the timeframe for raising funds is short, your soonest reply is appreciated.
For more information, please contact Jane Cisluycis at jane@upepiscopal.org or call 906-228-7160. Checks should be made to The Episcopal Diocese of Northern Michigan, and mailed to 131 East Ridge Street, Marquette, MI 49855, memo line: Road to Healing.
Donations can also be made on-line at our diocesan website:
https://www.paypal.com/donate/?hosted_button_id=BGZXX68SGUW4E
Miigwech (thank you)!
Leora Tadgerson Rayford J. Ray
Director of Diversity, Equity Bishop of Northern Michigan
& Inclusion
Phone: 906-228-7160 • Toll-free: 800-236-0087 · website: upepiscopal.org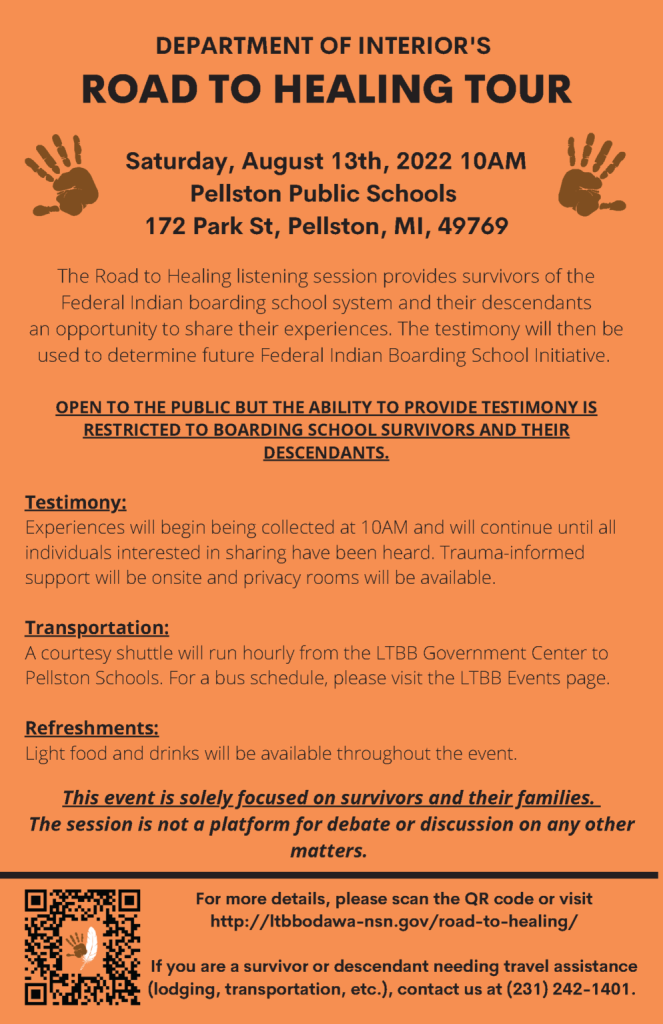 For additional information, go to: