Diocesan News and Updates

A Letter from the Episcopal Diocese of Northern Michigan Offering Support and Welcome to the Trans and Non-Binary Communities
Episcopal Diocese of Northern Michigan
131 East Ridge Street

Marquette, Michigan 49855
December 2021
We, the leadership of the Episcopal Diocese of Northern Michigan, are saddened by the news that the Roman Catholic Diocese of Marquette has called upon its clergy to withhold baptism and other sacraments from persons who are Trans, Transgender and Non-Binary until they deny their personhood and repent of who they are. This does not reflect the loving, liberating and life-giving God we know.
We believe and proclaim the Good News that all people are created in the image of God and that all people are beloved children of God. Because this is true, we are called to advocate for and protect the rights of and respect the dignity of all persons. We assert that our fellow children of God who identify as Trans, Transgender, and Non-Binary are whole and fully dignified: worthy of love, respect, support, and inclusion. We assert and affirm that no one needs to explain themselves: their bodies, their pronouns, and who they love–or meet any other requirement—to be God's beloved. 
We in the Episcopal Diocese of Northern Michigan, as a member diocese in The Episcopal Church, are called to do the work of loving, supporting, and advocating for Trans, Transgender and Non-Binary persons. The General Convention of The Episcopal Church, in 2018 called the Church to, "…support legislative, educational, pastoral, liturgical, and broader communal efforts that seek to end the pattern of violence against transgender people in general and transgender women in particular, calling attention especially to the rising violence against transgender women of color and gender non-conforming people…" (General Convention Resolution 2018-C022)
We understand that we as a Christian body have much to learn and must let Trans, Transgender and Non-Binary persons lead the way. In accordance with another General Convention resolution passed in 2018, we strive to "…  engage in the complex realities for transgender and non-binary persons in our churches, schools, and camps, and not yield to the temptation to ignore those realities…." and to… "recognize and accept our responsibility to protect the privacy of transgender and non-binary persons…" (General Convention Resolution 2018-C054)
To those who identify in this way: We recognize our world as a dangerous place for you. You are often treated as though you do not deserve respect unless you apologize for and deny who you truly are. So often you suffer verbal and physical abuse, and all too frequently: death. This is unjust, wrong, infuriating, and heartbreaking. We would like this to change for you and are willing to stand with you and to help.  We will not always get it right, but we hope to do our best.
We here in the Episcopal Diocese of Northern Michigan not only pray for your safety, good health, and happiness. We not only hope you know that you are beloved.  We pledge ourselves to the task of making your world a safer place in which to live. We desire that you prosper and thrive just as you are.
To those who identify as LGBTQI or who identify in any way that has caused you to be excluded, please know that the Episcopal Diocese of Northern Michigan embraces you and people of all expression of personhood as part of the family of God.
We welcome you to come and join us.  We welcome conversation and an opportunity to learn how we might support and get to know you.
Signed,
Lydia Bucklin
David Carlisle
Jane Cisluycis
Marna Franson
Susan Harries
Gin Mannisto
Bradley Pickens
Suzanne Ray
Rick Stanitis
Rayford Ray, Bishop
Conversations with the Peace Center
Please enjoy the December edition in which Marna Franson talks to Kathy and Deb about the origins of the Great Lakes Peace center in Rapid River.
Following the Benedictine Way
Diocese Missioner Takes Vow, New Community Founded
Tuesday, October 21, 2021
On Friday night, David Carlisle, a priest and missioner in the Episcopalian Diocese of Northern Michigan, took vows to follow the Rule of St. Benedict, simultaneously becoming a novitiate in the order and founding a Benedictine community here in Upper Michigan. 
The ceremony took place in a private home in the forest near Big Bay. Participants included Bishop Rayford Ray and Missioner Bradley Pickens of the Diocese; and Father Chad-Joseph Sundin, the Prior of the Community of St. Mary of the Annunciation in Arizona, who took part via the internet.
The new community is named for St. James the Just, the younger brother of Jesus. Carlisle said that St. James represents reconciliation, stability, and the determination to stay with a task even if it is difficult or dangerous. Carlisle feels that these values are at the core of what it means to be Benedictine. They are also Upper Michigan values, and much needed in these difficult times.
Benedictines seek to find a balance between prayer, work, and study, seeking God in the ordinary. There is a special emphasis on hospitality and stewardship in the order, and they are known for their respect for others and their devotion to prayer. Carlisle said that the goal of the Benedictine movement is, "To serve as a sign for the world that people, strangers, can live together in peace and love."
Bishop Rayford Ray spoke of why a Benedictine order works with the philosophy of the Episcopal Diocese of Northern Michigan, "The Benedictine focus on contemplative prayer, peace and service is an ideal fit for us. It is part of who we are." 
The Community of Saint James the Just will be the first religious order within the Episcopal Diocese of Northern Michigan in living memory, perhaps ever, and people are excited. Bishop Ray mentioned that people have already contacted the Diocese about the order and added, "We expect it to grow."
A family man with young children, Carlisle will balance his duties as a father and a priest in the Diocese with the demands of the Benedictine way of life. He knows that it will be challenging, but he is excited about the future.
He explained why he is drawn to this path. "It is a means to an end, in which the end is to be as good a Christian as you can be."
Unexpected Partners: Grace Episcopal Church in Ishpeming and Local Brewery Join Forces
Grace Episcopal Church and Kognisjon Bryggeri (Cognition Brewing Company reimagined) have entered into a new partnership to strengthen the community in the city of Ishpeming.
Grace is a small congregation of loving, faithful members who have cared for their building, their resources, and one another since 1902. "Church is community," said Ginny Graybill, who is a member and priest at Grace Episcopal Church, "and the community has a great love for this beautiful building. Like so many parishes nationwide, Grace has experienced a decline in active members over the years and with that maintaining our building became a great financial problem."
Lydia Kelsey Bucklin, who serves as Canon to the Ordinary for Discipleship and Vitality in the Episcopal Diocese of Northern Michigan, began meeting with leaders of Grace in September 2019 to vision for their future as a community of faith. One of the tasks the group was asked to do was to reflect on their Ishpeming neighbors and the needs of their local community.
Dozens Gather in Watersmeet for a Day of Healing
The Lac Vieux Desert Band of Lake Superior Chippewa Indians and the Native Justice Coalition held a walk of remembrance and heard testimony from survivors of Indian Boarding Schools
The people walked south into Watersmeet, their orange shirts glowing in the sunlight of a beautiful, fall day, carrying signs and wearing t-shirts with messages such as: "No more stolen children," "Every child counts," and "All Children are Valued!!"  The gathering moved inside as survivors told stories about life at the boarding schools and being taken from their families, their people, their land.
The group had gathered at the Lac Vieux Desert Reservation to mourn the victims of the boarding schools, listen to firsthand accounts of the experience, and learn the truth. A mix of young and old members of the Lac Vieux Desert Band, representatives of other Indigenous tribes from the Upper Great Lakes, and allies from across the Upper Peninsula, the people hoped to raise awareness of a boarding school history and to show support for Secretary of the Interior Deb Haaland's efforts at truth and reconciliation…
Please enjoy this conversation that Maran Franson had with Deb Nedeau and Kathy Vanden Boogaard of The Great Lakes Peace Center about Indigenous People's Day
"Monarchs of Peninsula Point"
By Sue Jamison 
September 8, 2021
Just as the Peninsula Point Lighthouse guided ships on Lake Michigan, the Stonington Peninsula guides Monarch butterflies as they begin their 1900-mile journey south to their wintering grounds in the Sierra Madre Mountains of Mexico.
In the fall, thousands of Monarchs can be seen here waiting for favorable conditions to help them cross Lake Michigan. Peninsula Point is one of only a few places in North America where Monarchs can be viewed migrating in large numbers. Because our area is so unique, the Forest Service together with Wildlife Unlimited of Delta County and many volunteers have been conducting research since 1994, making it the oldest data set on the Monarch in North America.
Shorter days and cooling temperatures are signals to the Monarch that it is time to begin flying south. Many of the Monarchs in the Upper Peninsula begin funneling down the Stonington Peninsula, following the shoreline. They will roost on the cedar trees here at Peninsula Point until north winds help them to cross the water over to Door County. Monarchs do not like to fly over large bodies of water. At the tip of the peninsula, they have a short distance to cross the lake.
Water is Life Festival in Mackinaw City Showcases the Need to Act Now
by Steve Pelto, September 8, 2021
As I passed the halfway point of the five-mile long Mackinac Bridge, my eyes scanned the water, looking for protesters.  I was here to witness the Line 5 protest and experience the Water is Life Festival.  As I came to the end of the bridge, I could canoes and kayaks pulled up on the narrow beach and crowd gathered around a speaker in the adjacent park. 
It was Saturday, September 4, and members of several indigenous tribes and their allies had gathered in Mackinaw City, Michigan in a continuing effort to secure clean water for future generations.  They were there for the Festival and to protest the Enbridge Line 5 oil pipeline that runs underneath the Straits of Mackinac. 
I was part of a small group from the Episcopal Diocese of Northern Michigan who made the trip to support the Indigenous peoples and to help protect our water.  Bishop Rayford Ray explained our role, "We are here to support and help the Indigenous water protectors."
Trinity Wall Street Grant Received for Beyond These Walls
The Episcopal Diocese of Northern Michigan has received a leadership development grant from Trinity Wall Street for an initiative entitled, Beyond These Walls: Theological Education for All. The purpose of the grant is to meet the growing need in communities of faith for well-formed leaders with practical skills for engaging a changing world.
The Rev. Canon Lydia Kelsey Bucklin, who serves as the diocesan liaison to this initiative said, "To be invited into a partnership with this emerging collective of prophetic theologians and church leaders is a blessing to our diocese, which has, in our DNA a commitment to recognizing …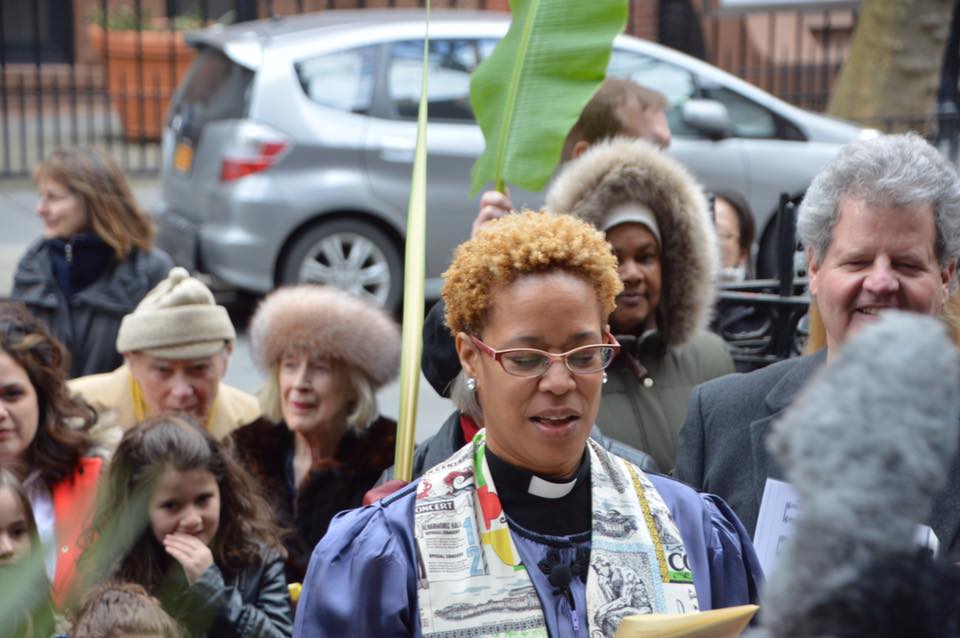 Visit our Social Media Pages
Facebook - - - Twitter - - - Youtube - - - Instagram