Diocesan News and Updates
A Word from the House of Deputies
House of Deputies president, church reaffirm commitment to reproductive rights as Supreme Court looks poised to overturn Roe v. Wade

Posted 19 hours ago
[Episcopal News Service] One of The Episcopal Church's presiding officers and its Office of Government Relations affirmed the church's commitment to equal access to reproductive health care on May 3, after a leaked draft of a pending U.S. Supreme Court ruling indicated the court was poised to overturn the landmark 1973 decision in Roe v. Wade that ensured for women nationwide the right to obtain an abortion.
The Rev. Gay Clark Jennings, president of the House of Deputies, responded with a written statement that cited decades of General Convention resolutions in support of women's access to birth control and abortion. In particular, Jennings said, The Episcopal Church's governing body passed a 1976 resolution that expressed "unequivocal opposition to any legislation on the part of the national or state governments which would abridge or deny the right of individuals to reach informed decisions in this matter and to act upon them."
"And yet, for half a century, the promise of equal access to reproductive health care has never been fully realized," said Jennings, who is 71. "For nearly my entire adult life, Christian extremists have fought to restrict access to abortion with invasive laws, demeaning patient requirements and clinic regulations that go far beyond what is required for patient safety. … Now, these extremists are on the verge of making good on a half-century of threats"…
Diocese Receives Grant from United Thank Offering
The money will be used to build relationships with our Indigenous neighbors and work on pressing Earth care issues
April 27, 2022
The Episcopal Diocese of Northern Michigan is pleased to announce that we have been awarded a $28,500 grant from United Thank Offering, a ministry of The Episcopal Church, for a project focused on strengthening relationships with our Indigenous neighbors.
The project is called Walking Together: Protecting Our Common Ground. Through it, the Diocese will strengthen relationships by working with our Indigenous neighbors to address the most pressing Earth care issues as identified by the five Tribal communities located throughout the Upper Peninsula of Michigan…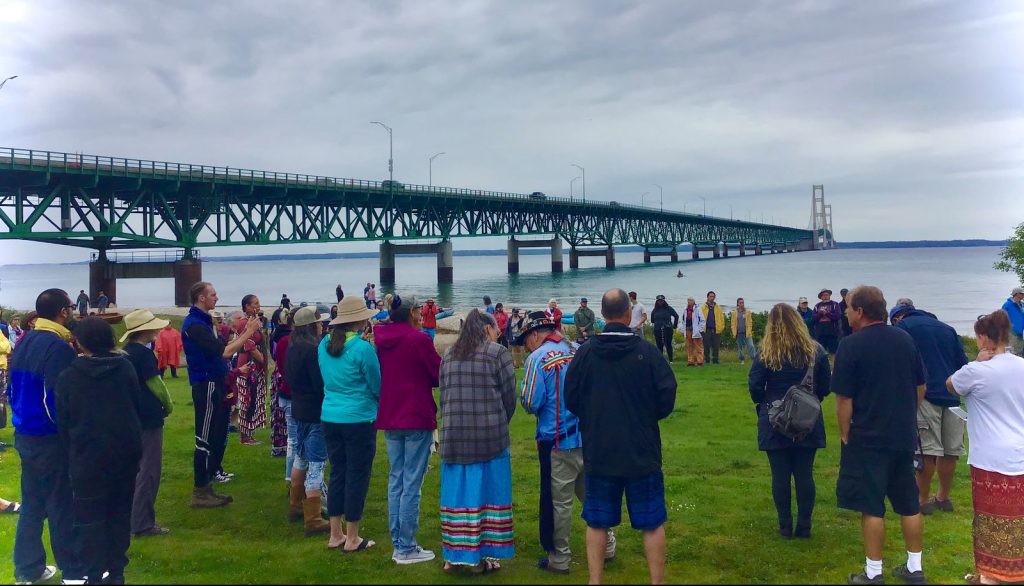 Churches Come Together to Help Their Neighbors
CLK Council of Churches Food Pantry Serves Houghton and Keweenaw Counties
Calumet, MI – According to the USDA, more than 38 million Americans experience food insecurity. This means that they lack consistent access to enough nutritious food to live a healthy life. That number includes more than 5,600 residents of Houghton and Keweenaw Counties in Michigan's Upper Peninsula.
The COVID pandemic has worsened an already difficult situation, forcing many to make impossible choices between buying food or paying their bills. To make it worse, many of these households do not qualify for federal nutrition assistance.
That is where the CLK Council of Churches steps in. This group, a coalition of Calumet, Laurium, and Keweenaw Peninsula churches, works to make sure that people in the Copper Country have access to the food they need. They maintain the CLK Council of Churches Food Pantry at 507 Pine Street in Calumet. It is open three days a week and offers residents groceries to supplement their nutritional needs…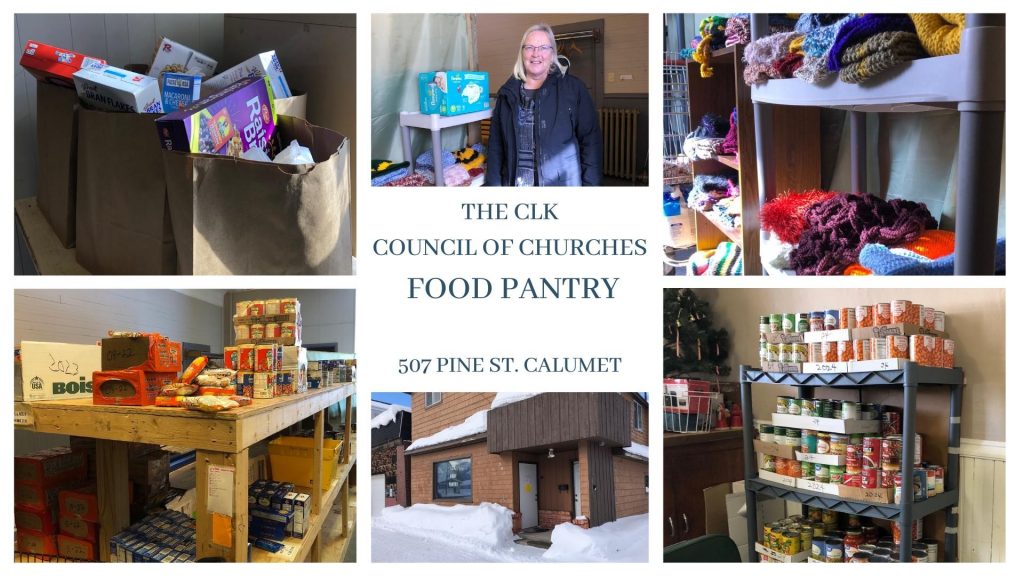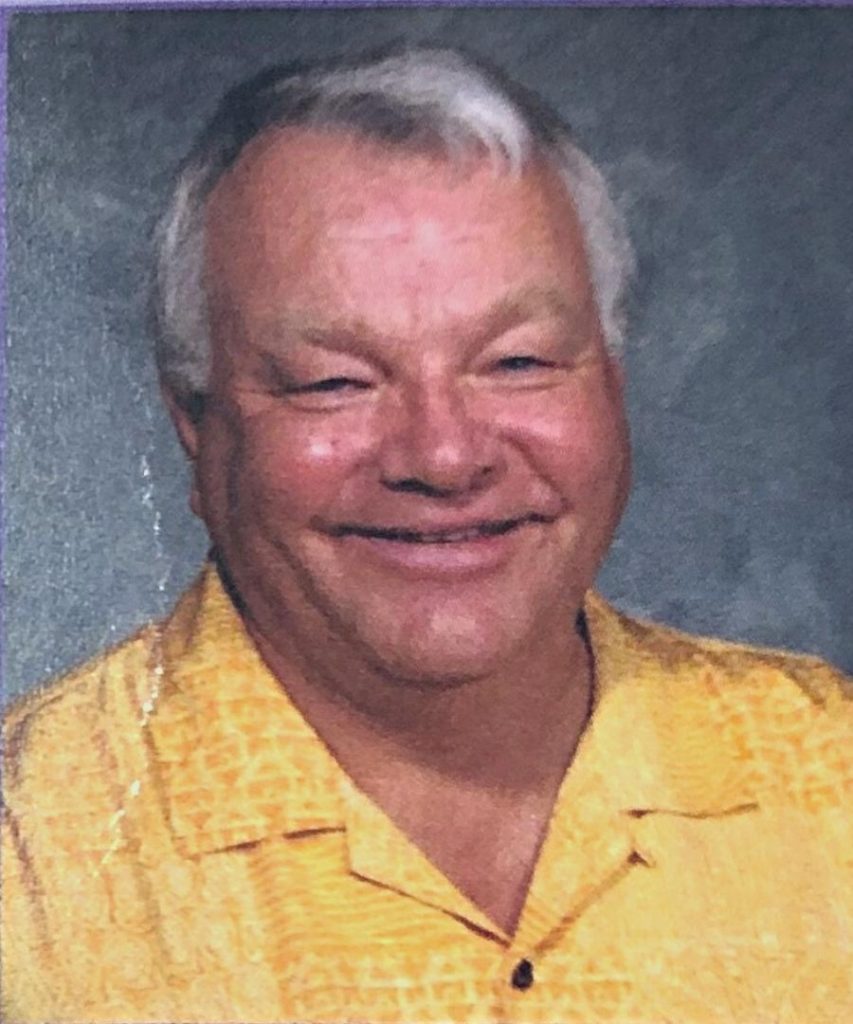 Leppen to Receive the Heart of Howard Brown Award
On Thursday March 10th, longtime member of the Church of the Transfiguration on Bois Blanc Island Michael Leppen will be honored for his many years of dedication, activism and philanthropy in human rights issues, particularly for the welfare and justice for LGBTQ+ persons. Michael has worked his whole life campaigning and advocating to ensure LGBTQ+ protection at the state and federal level, with an emphasis on HIV/AIDS education and outreach. As a member of this diocese, Michael has been a frequent partner in our shared mission of caring for those on the margins. Michael's ministry in his daily life holds up for all of us an example of being Christ in the world. Please join us in congratulating Michael and pray for his continued ministry and the work of the Howard Brown Health System.
Howard Brown Health was founded in 1974 and is now one of the nation's largest Lesbian, Gay, Bisexual, Transgender, and Queer (LGBTQ+) organizations. Their mission is, "Rooted in LGBTQ+ liberation…provides affirming healthcare and mobilizes for social justice," and they are "…agents of change for individual wellbeing and community empowerment."
(For more information on Howard Brown Health, go to: www.howardbrown.org.)

A Message from Bishop Ray
My heart sank as I heard the news this morning. Praying for the people of Ukraine and yearning for peace for all involved. Let us not forget our own troops deployed overseas during this time. Many include our very own members of our congregations. Please join me in prayer.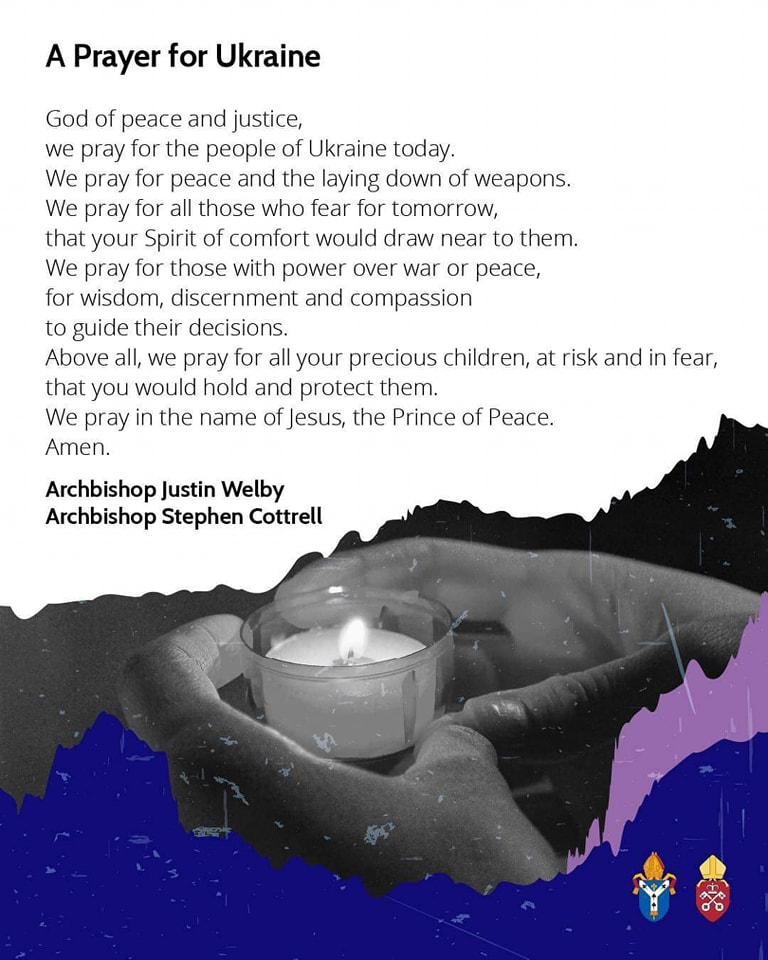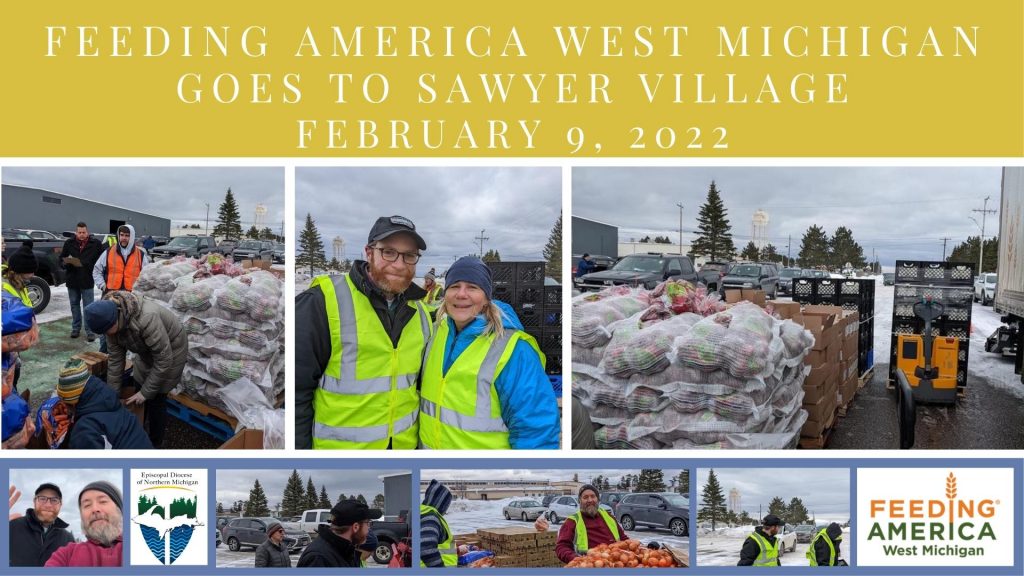 Connecting as a Community to Fight Hunger
On Wednesday, February 9, Upper Peninsula Health Care Solutions, along with the Episcopal Diocese of Northern Michigan, UP Wild Church, Embers Credit Union, the ELCA churches of Marquette County, and Sawyer Village hosted a Feeding America West Michigan Mobile Food Pantry at Sawyer.
Building upon the success of other food distributions they have hosted in Marquette and Munising, UPHCS and their partners made a truckload of healthy and nutritious food available to people from the Sawyer area who need access to good nutrition.  Volunteers ignored the cold wind and loaded cars with milk, baked goods, beans, yogurt, and fresh vegetables such as potatoes, carrots, and onions.
The Sawyer distribution was scheduled to run from Noon until 2:00 p.m. EST, but there was a line of cars filling the parking lot by 11:00 a.m.  Some people were picking up food for their family.  Other were picking up supplies for multiple households; some of whom are homebound.
Pallets of food were lined up in front of the Feeding America truck. Volunteers were assigned a variety of tasks including loading bags of potatoes, repackaging bulk carrots, handing out baked goods, or directing traffic.  There were smiling faces and cheerful hellos all around as items were loaded into pickup beds, car trunks, and the backseats of vehicles.
Volunteers came from several different organizations and locations and worked together as a team to make the event a success.  Some were working their first distribution.  Others return time and again.  Members of Grace Lutheran Church in Gwinn, who volunteered for this distribution, have begun hosting their own Mobile Food Pantry in nearby Gwinn.  Their next distribution will take place on March 2 at Grace Church, 558 W. M-35 in Gwinn.
Bishop Rayford Ray of the Episcopal Diocese of Northern Michigan praised the spirit of the volunteers and the cooperation that makes events of this sort possible.  "We really appreciate partnerships with all of the groups involved.  It is cooperation and collaboration that allows us to serve Marquette County in this way."
Notably, one volunteers present is a local celebrity:  Joe Pera, comedian, actor, and creator of the nationally syndicated show Joe Pera Talks to You (airing on the Cartoon Network & HBOmax). Pera was visiting Marquette and offered his time to volunteer alongside the other community members.
The Mobile Food Pantry program arose out of need.  According to the Feeding America website, there are more than 9,000 people in Marquette County who are food insecure.  This means that they do not have regular access to the nutrition required to lead a healthy life.
A look at the numbers illustrates the powerful impact of the Mobile Food Panty program.  In 2020, Feeding America West Michigan distributed 24,391,926 meals in Western Lower Michigan and the Upper Peninsula.  In Marquette County, the number of meals was 381,324.  That is a lot of food helping a lot of people.
The program is made up of numerous smaller events, each one touching the lives of many people.  On Wednesday at Sawyer, Feeding America served roughly 200 households, with food being distributed to 559 individuals, 154 children, 134 seniors, and 35 veterans.
Pastor Jack Busche of Grace Lutheran spoke of the importance of these events.  He sees hunger as a community-based problem, not individual. "Fighting hunger is mostly about reconnecting community ties."
"Sometimes, we get separated from the people when we just give donations." He said that with the food distributions, "We see gratitude from the people who receive the food.  We also see gratitude from the volunteers who see that their efforts are immediately impactful."
Wednesday's event had a powerful impact, both for the food distributed, and for the human connections made.
Conversations with the Peace Center
Please enjoy the December edition in which Marna Franson talks to Kathy and Deb about the origins of the Great Lakes Peace center in Rapid River.
Following the Benedictine Way
Diocese Missioner Takes Vow, New Community Founded
Tuesday, October 21, 2021
On Friday night, David Carlisle, a priest and missioner in the Episcopalian Diocese of Northern Michigan, took vows to follow the Rule of St. Benedict, simultaneously becoming a novitiate in the order and founding a Benedictine community here in Upper Michigan. 
The ceremony took place in a private home in the forest near Big Bay. Participants included Bishop Rayford Ray and Missioner Bradley Pickens of the Diocese; and Father Chad-Joseph Sundin, the Prior of the Community of St. Mary of the Annunciation in Arizona, who took part via the internet.
The new community is named for St. James the Just, the younger brother of Jesus. Carlisle said that St. James represents reconciliation, stability, and the determination to stay with a task even if it is difficult or dangerous. Carlisle feels that these values are at the core of what it means to be Benedictine. They are also Upper Michigan values, and much needed in these difficult times.
Benedictines seek to find a balance between prayer, work, and study, seeking God in the ordinary. There is a special emphasis on hospitality and stewardship in the order, and they are known for their respect for others and their devotion to prayer. Carlisle said that the goal of the Benedictine movement is, "To serve as a sign for the world that people, strangers, can live together in peace and love."
Bishop Rayford Ray spoke of why a Benedictine order works with the philosophy of the Episcopal Diocese of Northern Michigan, "The Benedictine focus on contemplative prayer, peace and service is an ideal fit for us. It is part of who we are." 
The Community of Saint James the Just will be the first religious order within the Episcopal Diocese of Northern Michigan in living memory, perhaps ever, and people are excited. Bishop Ray mentioned that people have already contacted the Diocese about the order and added, "We expect it to grow."
A family man with young children, Carlisle will balance his duties as a father and a priest in the Diocese with the demands of the Benedictine way of life. He knows that it will be challenging, but he is excited about the future.
He explained why he is drawn to this path. "It is a means to an end, in which the end is to be as good a Christian as you can be."
Unexpected Partners: Grace Episcopal Church in Ishpeming and Local Brewery Join Forces
Grace Episcopal Church and Kognisjon Bryggeri (Cognition Brewing Company reimagined) have entered into a new partnership to strengthen the community in the city of Ishpeming.
Grace is a small congregation of loving, faithful members who have cared for their building, their resources, and one another since 1902. "Church is community," said Ginny Graybill, who is a member and priest at Grace Episcopal Church, "and the community has a great love for this beautiful building. Like so many parishes nationwide, Grace has experienced a decline in active members over the years and with that maintaining our building became a great financial problem."
Lydia Kelsey Bucklin, who serves as Canon to the Ordinary for Discipleship and Vitality in the Episcopal Diocese of Northern Michigan, began meeting with leaders of Grace in September 2019 to vision for their future as a community of faith. One of the tasks the group was asked to do was to reflect on their Ishpeming neighbors and the needs of their local community.
Visit our Social Media Pages
Facebook - - - Twitter - - - Youtube - - - Instagram