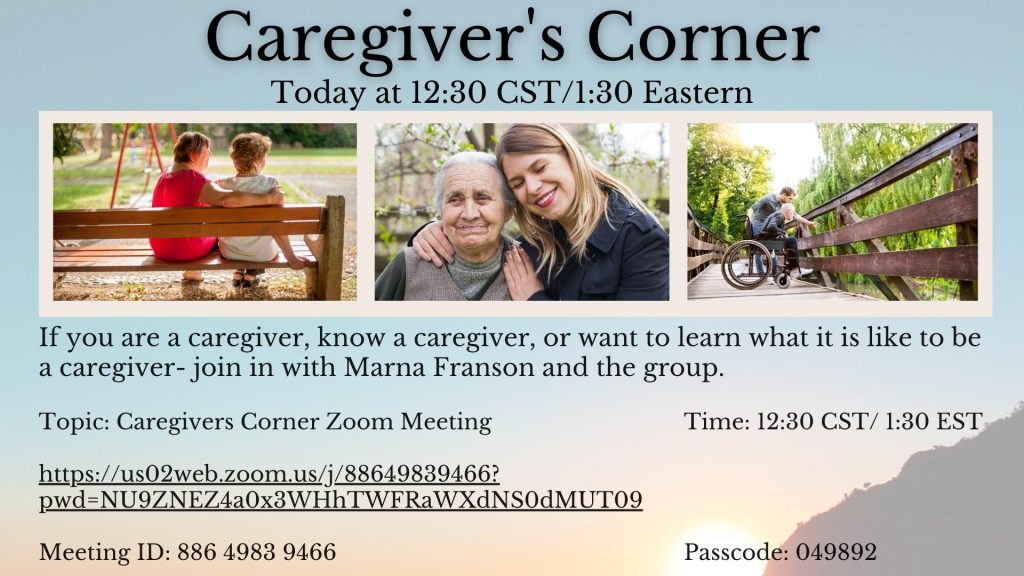 Hello Everyone!
         There are so many of us who are Caregivers – taking care of a loved one with a chronic condition. It doesn't matter if our loved one is at home or in a residential facility, it doesn't even matter if we live near them or 1000 miles away and are offering support…..all of it counts for caregiving.
CAREGIVERS
 REQUIRE 
SUPPORT
!!!! 
          So, please, if you are a 
caregiver
 – join us! If you know a 
caregiver
 – send them our way….if you want to learn what it is like to be a 
caregiver
 – join in!
Here is the login information and a note from my dear friend Debbie who hosts the meeting each month:
We will be meeting via Zoom this Wednesday, December 8th at 12:30 p.m. (See the link below) I do hope you have it on your calendars. 
The holidays can be quite overwhelming sometimes, and if you know of anyone who is a 
caregiver
 and needs 
support
, please do not hesitate to invite them to this meeting. Just forward the link to them. All are welcome.
Please also remember that our meetings are confidential, Our discussions remain private. If you have any questions, concerns or subjects you wish to discuss, just let me know before the meeting if at all possible. We are here to help one another!!
I look forward to seeing you on Wednesday!!
Topic:
 Caregivers Corner Zoom
Time: 12:30 Central/ 1:30 Eastern
Join Zoom Meeting
Meeting ID: 886 4983 9466
Peace to all,
Marna

Marna Franson
she/ her/ hers
Missioner, Episcopal Diocese of Northern Michigan