Old-Growth Forest at Saux Head Lake Dedicated
92-acre Property Needs Protection Due to Proximity to Proposed Rocket Site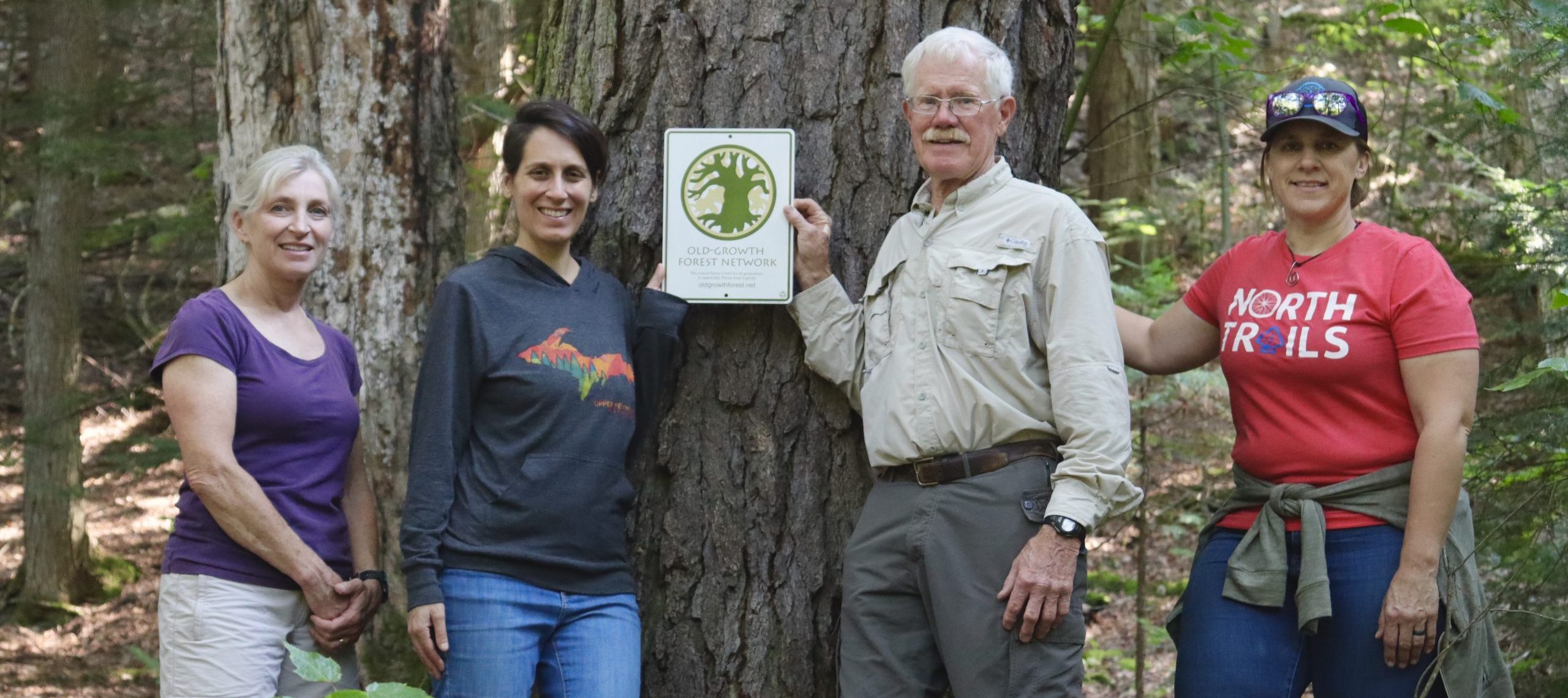 On August 23, 2022, Marquette became the first county in the Upper Peninsula to officially include 92 acres of old-growth forest within the Old-Growth Forest Network(OGFN). The OGFN is the only national network in the U.S. of protected, older, native forests and Saux Head Lake Forest became the first in Michigan to be dedicated on private lands. Property owners, Craig & Phyllis Stien were recognized for their efforts to protect and steward this area for future generations of Yoopers to enjoy.
The Stiens have included portions of their property within the Noquemanon Trail Network (NTN), which is a public access recreation site located 14 miles north of Marquette off of County Road 550. Marquette County OGFN Volunteer Coordinator, Lanni Lantto, presented the trail signage to the family alongside NTN Executive Director, Lori Hauswirth and NTN Board Member, Tracy Goble.
Nick Sanchez, Network Manager with OGFN states, "Forest development timelines are long and cyclical, and while almost all of our countries' old-growth was historically depleted, here in the Great Lakes region our remaining old-growth is also incredibly concentrated and remote. Most of the old-growth remains in the Porkies and wilderness areas in the Western U.P. By committing to the protection of this forest, the Stien family has given its community an incredible gift."
Saux Head Lake Forest was chosen due its boreal growth, age of trees, variety of species, accessibility to public and its need for protection due to a proposed commercial rocket launching site 1.5 miles away. Its topography of multiple steep damp glacial valleys has protected it from logging, historically the major threat to old-growth forests. The rocket launch site would be rezoned for industrial use and, once in use, launch failures & explosions are to be expected and could impose a major threat of forest fires. On average, 90% of a rocket's total weight before takeoff is fuel, which is spent with the goal of putting a satellite into low earth orbit. At a similar launch site in Kodiak, Alaska, a rocket exploded while still over land, rather than over the Gulf of Alaska, and unspent fuel leached into and contaminated the soil. Last month, a fire sparked by a launch facility in Texas scorched 68 acres of protected wildlife refuge surrounding the launch site.
Although this is the closest old-growth forest to the proposed site, mature tree stands exist within a 15 mile radius of the proposed site. This includes the Little Presque Isle Tract, which consists of Harlow Lake & Creek, Top of the World, Hogback Mountain, Wetmore Pond, and Sugarloaf Mountain. Within these areas exist documented stands of Red Pine, White Pine, Eastern Hemlock, Sugar Maple and Yellow Birch, many of which are over 200 years old. Public sites such as Sugarloaf already have formal protection in place that ensures that their trees and ecosystems are safe from commercial logging. Now, as these areas face unprecedented risks, our community including Powell and Marquette Townships, the City of Marquette, the County Commission, local business owners & taxpayers have the opportunity to become more engaged with safeguarding this specific location.
The commercial launching site, which was originally to be located at K.I. Sawyer Air Force Base, is now planned for the direct center portions of Marquette's old-growth and one of its most popular recreational-based tourism areas.
According to the most recent Tourism and Economic Impact Reports from Pure Michigan, Marquette County has the highest tourism supported employment and labor income within the entire Upper Peninsula. A 5-year average of the recreational spending specifically in Marquette County is approximately $25.34 million annually. The Little Presque Isle Tract is an extremely popular destination for people seeking to bike, fish, camp, kayak, hike, swim, ski, and snowshoe in peace and solitude.
This entire area is also within the Michigamme Highlands, which is extremely unique because of its climate resiliency and micro-climate diversity. This particular bio-region is ancient and provides an irreplaceable spiritual and economic value to our community. Nick Sanchez reiterates, "We hope that the Stien's actions will inspire other landowners, both public and private, to consider volunteering their forests for this higher purpose."